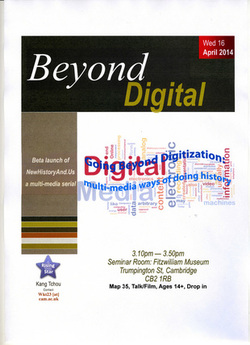 The goal of this presentation is to persuade you that history presented through a multimedia format will not only be a new approach to the study of this subject but that history is necessary for defining our individual identity in the age of globalization.

As a historian of nineteenth century warfare, allow me to make an startling statement: Today and in our foreseeable future—history, at least in a traditional sense, is now obsolete. While this may be shocking to you, the simple fact is that since 2012 the entire United Kingdom no longer provide any 'direct state funding to teach the arts and humanities' that include the study of history.

But what is history? Isn't it simply stories of us, of who, of what we are and where we come from? I believe in our age of globalization—-where almost everyone, for example in this very audience, are from different places and cultures and some are fortunate enough to be the combination of a mixture of heritages—There is very much a need to understand and tell our mutual stories which is at the very core of our shared history. History then is needed by all of us for it helps to shape our individual identity.

There are justified objections to our need for history. Doing history in a traditional manner is rather costly. As a historian, my secondary education and training cost an upwards of 130,000 pounds, not inclusive of cost-of-living. The maintenance of the University Library's excellent collections of books, maps and manuscripts, that are essential for research in history, costs on average four million pounds annually. In the past year, in order to keep pace with the developments in digital humanities, I spent a personal fortune of nearly 5,000 pounds in the purchase of computer hardware and software. In addition there is also the cost of building my private library of now nearly 1000 volumes of books most of which sit in boxes in my parent's spare garage. The study of history is indeed costly in financial terms.

Time is also a factor. I am now in my thirty-seventh year of existence. My education as a historian began in 2001 and so for the past 13 years I have earned my knowledge in a variety of subjects in the arts and humanities that today contributes to my ability to tell stories as a historian. In terms of the amount of time required, this is more than what most people will have the luxury of spending on the study of history.

Yet both the cost in terms of finance and time is based on an antiquated model of acquiring knowledge. It presupposes that knowledge and expertise can only be gained through a course of life time of study at great cost in time and money. The result is a single expert of knowledge, in our case, an authority in telling stories, a historian who writes definitive texts that explain to everyone else their stories. While there may still be a place for this old fashioned type of historians, I believe our desire to understand history as a way to shape and form our own identities can be acquired in a much more collaborative, cost-effective and multimedia manner.

Let us visualize this new way of doing history by exploring a story that helps to share with you a part of my own identity. I was born and raised in China until the age of 9 and then I lived in southern United States, until I began my PhD here in Cambridge in 2010. Perhaps the most suitable way to describe my current identity is that I am Sino-Anglo-American. In order to understand my own identity, in 2009 I proposed a question regarding our shared history. It was a simple question: How did the Anglo-American and Chinese cultures meet? Explore this question by viewing the Prezi-tation below.

But what was this civil war, what research is being done about this part of our common history? Perhaps the most visual way to relate my answer is through a short film.
Thank you spending your precious time learning just one story. I hope you will like our Facebook page or connect with us on Linkedin or twitter something about our side and I hope you will also now believe history presented through a multimedia format will not only be a new approach to the study of this subject but that history is necessary for defining our individual identity in the age of globalization. We hope that NewHistoryAnd.Us will be your multimedia platform were we all can present history through a multimedia format so that not only trained historian like me but anyone from around the world can find new approaches to the study of history and help to define our respective individual identities in our age of globalization.